Conversations about the decade's most celebrated sitcom – The Big Bang Theory –  have not ended for years now. A huge chunk of the audience appreciates this content. There also are a number of people out there who criticise the show. While the online debate about it goes on, we feel that the show deserves a watch for the popularity it has attained. And so, we have culled a list of 10 reasons you must watch The Big Bang Theory. 
Co-created by Chuck Lorre and Bill Prady, the show depicts the lives of a group of nerds and a cool girl. There is emotion, fun, drama, science, friendship, romance, and much more. Yes, everyone has varied content choices but there is so much on the show that you might not want to miss it. Let's now dig deep into why we really recommend it to all our readers out there.
1. Because it is Really funny
There is not a single episode in the entire series which bores the audience. In addition to all the science and emotion, fun is a factor which is never off track on The Big Bang Theory .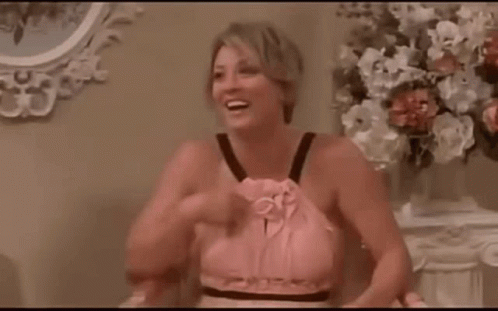 May it be Raj's way of speaking to women, Sheldon's way of expressing his emotions, Leaonard's maturity, Howard's chattiness, Penny's sarcasm, Bernadettes 'sweetness', Amy's intelligence or Stuart's 'activeness'.
2. Because of the smart men
The Big Bang Theory is a bang-on title for this show. Courtesy – The four men in the house! These geeky characters; Leonard (played by Johnny Galecki), Sheldon (Jim Parsons), Raj (Kunal Nayyar) and Howard (Simon Helberg); are so loveable that you would miss anyone who is not around even for a little while.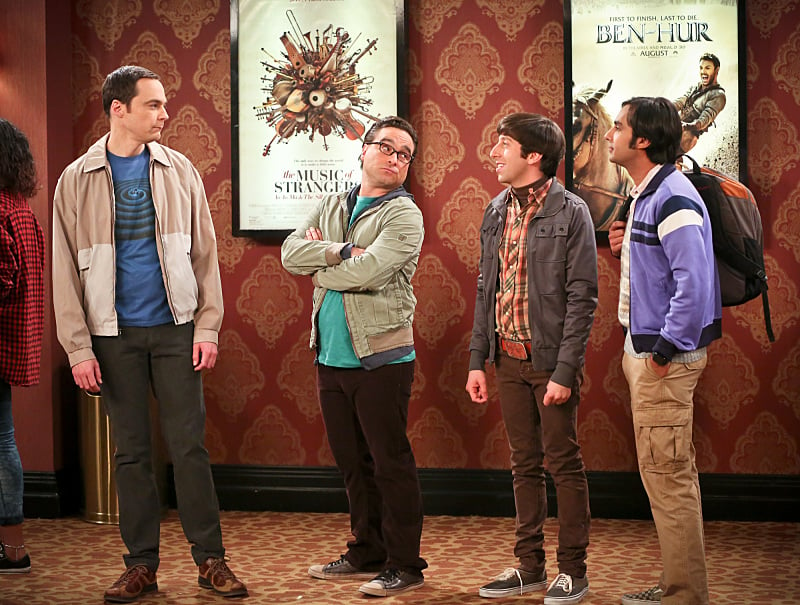 Each of them has a certain charm which keeps the audience hooked. In addition to their appeal, the story flows in such a clean manner that you can't resist binging the show for these men.
3. Because of the beautiful women
And here is to the women of the show! Penny (played by Kaley Cuoco), Amy (Mayim Bialik) and Bernadette (Melissa Rauch). What Rachel was to FRIENDS is what Penny is to The Big Bang Theory – beautiful and fun.
There is no dull episode when Penny is around. The show features her from the very first season while Bernadette and Amy are introduced in Season 3. Each of them are really different from one another and yet every character is a treat to watch. Penny is easy going, Amy – a true nerd and Bernadette is really diligent.  At the end of the show you might just pick them all if asked to choose your favourite one.
4. For the heartwarming moments
Countless moments on the show will make you fall in love with the show again and again, and again! The show starts as a light hearted fun piece of content. But as it advances, the creative team has put in amazing effort to showcase every common emotion. There is love, anger, sadness, excitement, fear, joy, trust etc etc.. One of the most beautiful relationship that is shown is the one that Penny and Sheldon share.
It's so moving that you might pause a scene to just live the moment of warmth in that sequence.
5. For the amusing cameos
Celebrity appearances on successful shows is a popular trend. And so, interesting cameos had to definitely be there on The Big Bang Theory. Popular personalities from the field of entertainment to academics featured on the show in a span of 12 seasons.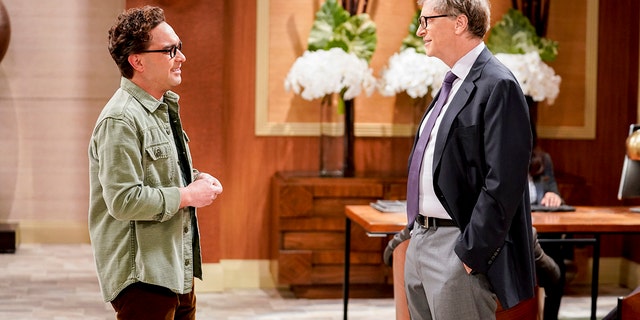 Here are the best ones from more than 60 cameos on the show :
Stan Lee

Steve Wozniak 

Neil deGrasse Tyson

Buzz Aldrin

Howie Mandal

James Earl Jones

Mark Hamill

Elon Musk

Adam West

Elen DeGeneres

Bill Gates

Dean Norris

Sean Astin

George Smoot

Sarah Michelle Geller
6. For Stuart
The Big Bang Theory would not have been the show it is without Stuart. Starting Season 2, the character has been an important 'part' of the group.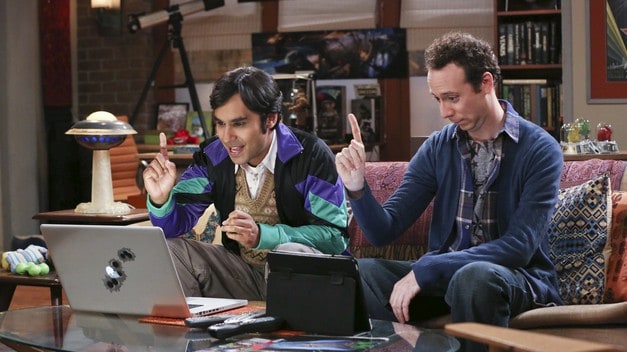 The deadpan humour that he brings to the show is adorable. Moreover, the sense of giving that he has for his friends is appreciable.
7. Because of the quirky dialogues
Kudos to the dialogue writers of The Bing Bang Theory.
There is not a single episode where the dialogues went low in quality. Every scene comes out perfectly with the dialogues written for the sequence.
8. For Stephen Hawking
Getting to watch a science biggie in midst of all the emotion is super cool.
In addition to all the fun that this show is, Stephen Hawking's funny sequences make it more funny, and yet inspiring.
9. For the love of Science (or for the wish to love science)
Always wished to throw science jargons like your geek best friend?
You got a cheatsheet – The Big Bang Theory. If Penny could explain a little science concept to Zack (Season 3, Episode 23), we can all learn at-least something that is 'science', from this show. And what is the harm in trying, anyway? It would just be a by product of one of the funniest pieces of latest content.
There could not have been a better ending to this amazing science based relationship valuing show. And we would end here and not write more about it for spoilers annoy everyone.
x